Custom Jewelry Design Center
Custom Jewelry Design Center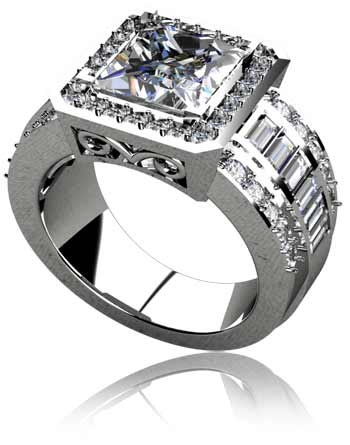 McCoy Jewelers in Bartlesville is the only jewelry store in NorthEastern Oklahoma to have Gemvision™, a state-of-the-art computer aided design (CAD) program that allows McCoy Jewelers to create fantastic designs and let you see them on screen in 3-D, allowing you more control and helping you to see exactly what your design will look like.
The design to the right is an actual computer-generated image created by the Gemvision program. Imagine your perfect ring or other fine jewelry piece and let McCoy Jewelers create a 3-D model for you to examine and make changes to, then have your one-of-a-kind heirloom created by the master craftsmen at McCoy's.
Learn more about Gemvision at Gemvision.com.
Step 1: Please let us know more about what you are looking to have us design for you.
If you already have a pending project, please
log in here
.